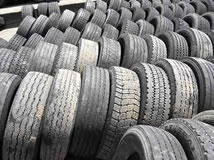 What's Causing My Tires To Fail?
Getting full value of your tire assets starts with understanding why tires must be removed from service prematurely. By performing an Out Of Service Tire Analysis and using the Non-Retreadable Tire reports generated by our BASys Manufacturing System, Dorsey Tire can identify factors that cause your tires to be removed from service. These factors can range from Casing Age, Driver Abuse, Air Pressure issues, Incorrect Applications, Brand Compatibility, and much more. By finding these issues, Dorsey Tire will help your company to correct the underlying problems which will lead to reduced tire costs. Additionally, our reports can tell us which brands are the most Retreadable, Average remaining 32nds for retreading, average number of rejections due to specifications, and much more.
While no tire can last forever, Dorsey Tire is dedicated to keeping a tire in service for as long as possible, thereby lowering your "tires cost per mile."
Ask your Dorsey Tire sales representative about this added value service.