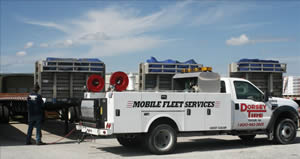 We understand that no two fleets are the same and the issues that they face must be dealt with in different ways. This is why Dorsey Tire Company offers Custom Maintenance Management Programs for our customers. Using these programs, we dissect the entire maintenance program of a fleet to understand what areas are costing the fleet the most money. These programs can cover anything from Tire Management and Maintenance, Fleet Inspections, Trailer Readiness, and newest program which is CSA Compliance and Readiness Programs. Examples of some of these programs are listed below.
A Air/Tread Fleet Inspection program should consist of the following:

Inflation and flat-tire checks using calibrated Air-Gauges
Measurement of remaining tread depth
Inspection of tires for damage such as flat spots, cuts, abrasion, tread lifts, mis-matched tires, unusual wear patterns...
Wheel inspection to detect mis-aligned valve stems, spun wheels, missing valve caps, damaged wheels, leaking oil seals...
Re-torque wheel nuts to correct torque
Check for other obvious damage to vehicle that could cost downtime
Verification of FHWA Stickers, IFTA Fuel Stickers, and County Tag Stickers
All Information is captured in BASys Fleet Analyzer for report tracking and sent back to the fleet.
A Tire Management and Maintenance Program should include:
Fleet Inspections as outlined above
Outline of the processing of all tires including:

Inflation Requirements
Pull Points for Retreading
Tire Matching
Installation Procedures
Tire Replacement Guidelines
Repair Guidelines
Billing Requirements
Contacts
Delivery Requirements
Inventory Requirements
Rim Processing Requirements
Tire Disposal Requirements and Reporting
Remote access to their tires via BASys Fleet Inventory. As a Fleet Customer, you will now have the ability to view your inventory and see reports about the conditions of your tires held at Dorsey Tire. This system is updated on a daily basis. Web Access Address: bfi.bandag.com
With our Trailer Readiness Program's, our customers can:

Get customized, consolidated reports on brakes, lights and tires to help them better manage your fleet.
Get standardized, quality trailer inspection.
Avoid costly DOT fines and emergency services.
Improve vehicle safety.
Improve fleet efficiency by optimizing your mechanics' time.
Increase driver satisfaction with better-maintained trucks.
a more profitable present and future.
With our New CSA Readiness Programs, our customers vehicles are inspected for all items outlined in the New CSA Requirements.
Additionally, all of Dorsey Tire's Technicians are certified by the TIA every 2 years, and all Dorsey Tire service vehicles are equipped with items such as torque wrench's, calibrated air gauges, jack stands, wheel chocks, tire cages and safety cones to make sure the work is done correctly and safely.