Join Our Team!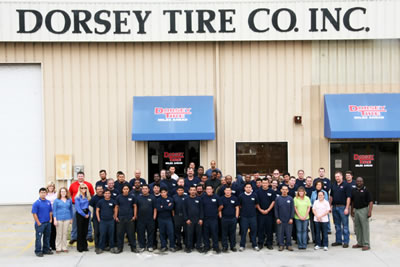 At Dorsey Tire Company, we are committed to giving our customers "Quality Tires and Excellent Service" and we are always looking for enthusiastic team members that believe in making things happen. All of our employees are team oriented and dedicated to providing superior service and delivering exceptional value. We are an organization not content with just meeting customer expectations, but continually exceeding them.
We offer a healthy, flexible and challenging team environment as well as a highly competitive compensation package and benefits. Click Here for current opportunities.
Immediate Benefits:

Verizon Program – Employee's Receive discounts off their personal phone bill for being an employee of Dorsey Tire.
Sports Clips – Employees receive $3.00 off the price of their Hair Cut.
CDW – Employees are eligible for discounts on purchases of products sold from CDW.
Christmas Club – Employees can put a determined amount of money into a savings account to be paid out in November for Christmas.
Benefits Eligible after 90 Days:

Health/Medical Benefits – Employees are eligible for benefits for themselves and their family. Additionally, Employees who participate in this program will receive an additional $30,000.00 Life Insurance Policy at no cost to them.
Wellness Program – Employees are eligible to participate in our Wellness Program. To remain eligible, employees are required to not miss more than 6 days of work within a 6 month period and must participate in our wellness bus. The programs works as follows:

Smoke Free – Employees who smoke are eligible for $250.00 if they stop smoking for 6 months. They will receive an additional $250.00 if they remain smoke free for an additional 6 months.
Weight Control – Employees who are over-weight will be paid $5.00 per each pound they lose in 6 months. After 6 months, employees will be paid $5.00 per each additional pound they keep off on top of every pound they lose additionally.
Health Screenings - Every 6 months, a health bus will come to Dorsey Tire to conduct Health Checks on participating employees. At this screen, they will check Body Mass Index, Blood Pressure, and will take a Blood sample to test as well.

Discount on Tires – Employees of Dorsey Tire are able to buy tires at the same cost of Dorsey Tire. If employees choose to purchase tires for a family member, these tires are subject to mark ups. No credit is extended for purchases of Tires.
Uniforms
Holiday Pay – Dorsey Tire offers six paid Holidays.

New Years
Memorial Day
4th of July
Labor Day
Thanksgiving
Christmas

Benefits Eligible after 1 year of employment:

PTO/Vacation Time – Employees are given 2 floating days off of your choice. Additionally, employees earn Vacation Time based on their time of service.
401K – Dorsey Tire offers one of the most generous 401K Programs available. After one year of service and at the next Open Enrollment Period, employees can enroll in our 401K plan where the company will match dollar for dollar up to 4% when 5% of the Gross pay is contributed.

Additional Benefits:

Training – At certain times, employees can be sent for job specific training. This training may take place at our shop or we may have to send the employee of to a training facility for this certification. At these times, Dorsey Tire will handle all cost incurred for the training in addition to pay for training as well.
Annual Reviews – All Employees will have a Bi-Annual and Annual Review. The Bi-Annual will be used as a midterm for the Annual Review. The Annual Review will be used as an opportunity for both the Manager's and Employees to address any concerns. Annual Reviews are the only Review where Pay Increase will be considered.
Turkey Fry – An annual event held at Dorsey . We use this event to not only celebrate Thanksgiving, but as an opportunity for our customers to see our facility and meet our employees.
Sand Gnats – Dorsey Tire has an annual night out for all of our employees where we pay for tickets to a Savannah Sand Gnat's Baseball Game. We also provide Bug Bucks for our employees to get food and drinks from the concession stands.