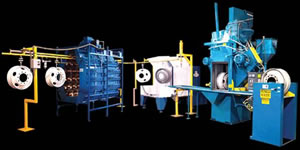 Dorsey Tire Powder Coat Rim Refinishing
Dorsey Tire Company Inc. offers wheel refinishing service using state of the art equipment made by International Marketing Inc. Our expert wheel refinishing technicians take all of the necessary steps to insure that our customers rims are inspected for any cracks, breaks, or damages to these rims so as to comply with all FMCSA requirements and can safely be returned to service. They also use quality products from Rohm and Haas, which only make premier coatings that allow us to offer our customers the best product selection for all their wheel refinishing needs. The Dorsey Tire rim refinishing shop is located at our main facility located in Pooler, Georgia.

Learn More About Our Processes
Dorsey Tire Company Inc. Uses the 20/20 Wheel and Rim Refinishing System by International Marketing, Inc
Why should you Refinish your Rim's?
Adding wheel and rim refinishing to your maintenance program not only gives you a more professional appearance to your customers and the general community, but it also increases the operational readiness of your fleet. Let's face it, a majority of people live by the rule of perception is reality and how they view your equipment says a lot about your maintenance programs.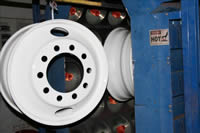 The other benefits of wheel and rim refinishing are:

Decreased chance of air loss due to broken bead.
Decreased chance of full blowout on the road.
Longer rim life.
OSHA Compliance.
Professional appearance.
Improve Vehicles Safety.
Improve driver satisfaction and instill pride in their vehicle.
Why IMI 20/20 Wheel and Rim Refinishing System?
When OSHA called for mandatory wheel and rim refinishing 23 years ago, IMI immediately answered. In addition to a time-tested refinishing system, IMI and Dorsey Tire Company Inc. offer superior customer service. The IMI wheel and rim refinishing system is the only system on the market that has a true centrifugal wheel blaster, complete monorail system, and infrared ovens.
What does all of this mean to you?
The 20/20 refinishing system is the best on the market:

A lab-tested shot blend for efficient paint removal and minimal surface damage.
Superior powder coverage.
Open ovens = a consistent cure.
A RIM NEEDS REFINISHING WHEN THERE IS:

Any rust, rubber or debris at or in the bead seat.
More than 3 mils of powder, paint, or debris around the bolt area.
More than 20% rust present on the rim.
The appearance is unsatisfactory for the fleets appearance guidelines.
With this system, we can offer: IMI Zinc Rich Primer - Premium Super Gloss Powder (IR Ovens) IMI Zinc Rich Primer With the use of the IMI Zinc Rich Primers, we can offer premium corrosion protection for wheels exposed to harsh environments. Zinc Rich wheel powder coatings are thermoset epoxy powders, available in a dark grey color. They are designed for use as a primer or topcoat. The sacrificial action of the zinc provides substrate protection unmatched by any other technology. In addition to corrosion protection, zinc rich basecoats have superior physical properties: good edge coverage, substrate encapsulation, and flexibility. When used as a primer, the coated part should only remain in the oven long enough for the coating to flow into a continuous film. The part is ready for the application of a topcoat when the primer "melts". Once a topcoat is applied, a secondary cure for both coatings is required. To obtain the best corrosion protection, the part must have sufficient cure whether used as a primer or topcoat.
Testing has shown that combining the IMI Zinc Rich Primer with our Super Gloss top coat provides 3 times the Salt Spray Resistance of common industry top coats alone! This means 2,400+ hours of corrosion resistance for your wheels!

Premium Super Gloss Powder CoatingsPremium Super Gloss Powder Coatings offer excellent transfer efficiency, excellent flow and hide characteristics, anti-bloom agents (no fogging of color), anti-outgassing chemistry (stabilizing product cure and eliminating pin holes)*, a low temperature cure for fast production turn around, and a durable finish that will withstand harsh outdoor elements. Premium Super Gloss Powder is designed for Infrared Ovens using "line of sight" Infrared energy.

A Comprehensive Color Selection

Bright White (Premium)
USF Orange (Premium)
Choice White (Standard)
Sky White (Standard)
Stardust Silver (Standard)
Rim Grey (Standard)
New Black (Standard)
The Best Powder Finishing Solution for Your NeedsWe can help you make the best product selection for your business, your fleet, or your customers. IMI Powder Coating Products are the premier powder finishing products in the industry, offering superior product integrity, quality and durability. We also offer complete color matching and custom service with Premium and Standard Super Gloss Coatings! We can even match colors upon request!